This Trash Does NOT Belong in Your Dumpster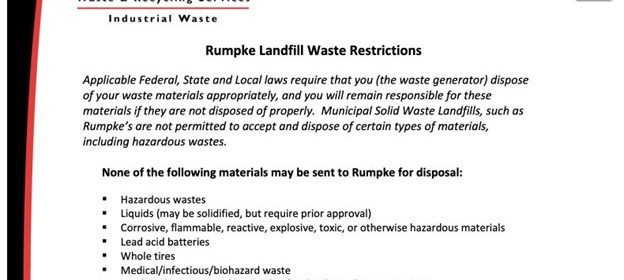 When you rent a dumpster for a project, there is always the temptation to fill it with all the waste you have lying around. However, there are restrictions on what you can put in your dumpster. This is because landfills need to maintain standards for what might leak into groundwater, or what might cause problems – like fires and collapses – at the landfill itself.
Here is a short guide to what one large southwest Ohio waste landfill company does not allow dumped in their landfill.
As always, check with the company you rent your dumpster from, and check with your local landfill for specific regulations and expectations. Always follow the law. Failure to do so can lead to major fines and loss of permits or worse.
Some of the restrictions are obvious. Others will be easily violated if you don't pay careful attention during your project.
Here's what one major landfill prohibits
The first check of the list reveals a few anticipated items.
As you'd expect, you are not to throw away hazardous items including items that are flammable, explosive, toxic, or corrosive. Every community has different rules for dispensing of these hazardous materials. These are matters of community safety and should be followed.
Also expected, landfills do not permit dumping radioactive waste. If your waste is radioactive, renting a dumpster is probably not the right path for you!
Final expected banned items are batteries, because they are corrosive and toxic, and medical or other biohazard waste.
The other items on the list might not be as expected, and merit a closer look.
Check closely before dumping to see if tires can be included. At this landfill they cannot. Fluorescent lamps and ballasts are also forbidden items that are easy to miss, especially when doing a demo of factory or office space. These locations often make extensive use of fluorescent bulbs and ballasts. Those materials should be set aside and discarded in accordance with local regulations. If you are doing a home demolition, especially in a garage, it might be tempting to throw items from the shelves into the dumpster without a second thought. However, these can include some of the forbidden items: pesticides, herbicides, and fertilizers. These items are hazardous alone, and worse, they can combine with other chemicals to become toxic or explosive. Again, check local restrictions before tossing them in your dumpster.