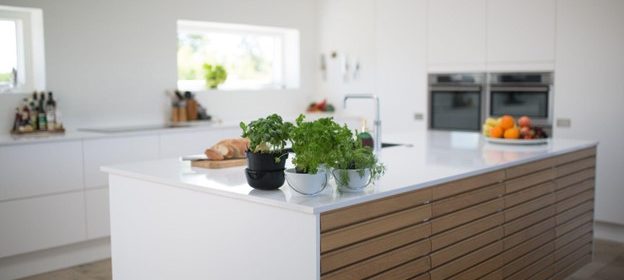 Homeowners who are looking to invest in a kitchen renovation project have plenty of options available to them. Not only are there hundreds of materials, styles, and colors to choose from, but the range of appliances and fixtures that can be incorporated into the space is endless. With careful planning and budgeting, you can create a one-of-a-kind kitchen that will not only be functional and aesthetically pleasing, but is also reflective of your lifestyle and personal tastes.
But first, you have to get rid of the old kitchen. And for this, you are going to want to rent a dumpster from Big Daddy Dumpsters.
Renting a dumpster makes your kitchen project easier
Renting a dumpster makes your home renovation project easier by allowing you to quickly and easily dispose of debris and waste associated with your kitchen remodel. Rather than having to load up and transport load after load of debris, to the curb, possibly reaching limits imposed by your community, you can simply fill the dumpster as you go and have it taken away when it is full. This eliminates the need to run back and forth and makes job clean-up simpler at the end of the day.
Simply schedule a dropoff and pickup time for your dumpster, and then you are free to work on your renovation at your own pace. You won't have to rush to get the garbage to the curb on one specific night of the week to avoid angering your neighbors.
Now, with the dumpster in place you can get to work.
Planning your kitchen renovation
First, plan and budget: The first step in a kitchen renovation is to plan and budget for the project. Identify what changes you would like to make to your kitchen. Consider the size of the space, appliances, and cabinets that you would like to include. Determine whether it will require any ajor structural changes or if you can make do with minor changes. Make sure to consult an expert to review the design plans and give a realistic cost estimation of what it will take to get the job done.
Second, clear your palette. Take out everything you aren't keeping, and anything that isn't directly attached to the plumbing and electric. With this blank slate you can begin creating your dream space. This is where you will make heavy use of your dumpster, dragging unneeded items away to be handled by someone else.
Third, fill in flooring, cabinetry, and framing. By carefully measuring and planning these steps, everything else will flow smoothly and beautifully as you transform your space.
Finally, add countertops and your appliances. By adding your distinctive touch, you personalize the space. And modernizing these appliances increases the resale value of your home, if that is your goal. And while you are, of course, recycling some of the materials, any non-recyclable packing materials can also conveniently go in your dumpster.
Then, when the work is completed, call Big Daddy Dumpster to haul away the debris.