I Found an Old Chemical Barrel Cleaning Out My New Property, What Do I Do?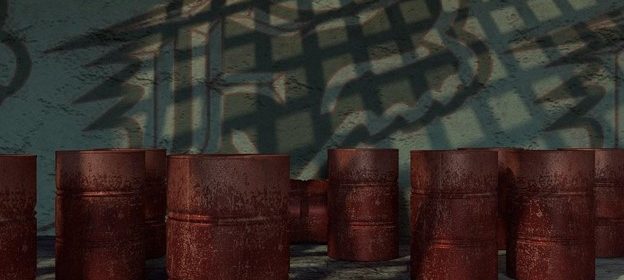 You are excited to get out into that  old structure on the back of your new property. There's lots of junk in there: metal that would have to be scrapped, parts of things that crumbled or broke as you moved them. But you weren't expecting this.
There under a tarp are a couple of barrels of some sort of liquid. Perhaps you can read the label or perhaps they are covered over with grime and dust from years of neglect. For some reason the previous owner could not dispose of what's ever inside these barrels, or else they believed it would one day come in handy and kept it safe.
But now it is yours.  and you don't know what it is.
What should you do?
esist your urge to see
First you have to resist your curious urge to check what is inside. It is natural to want to pry open the lid and have a look at this new mysterious liquid you own. You might be thinking to yourself, "How bad could it be?"
In actuality it could be really bad. After all there is a reason the previous owner did not dispose of it. It is possibly extremely hazardous material. Opening it could pose a hazard to you and others working in that area, and could even make the space uninhabitable.
Worse yet, some sealed materials deteriorate over time, and when you open the barrel, exposing them to oxygen could give them fuel they need to burst into flame.
Call the fire department
If the label on the side of the barrel is clearly labeled and  you can read the numbers,  you should call your local fire department and speak with a firefighter. This firefighter can tell you what exactly is contained in the barrel and what you need to do to safely dispose of it.
If the label on the side of the barrel can't be read,  firefighters will respond to your location. They will bring the apparatus they need to investigate what's in that barrel in a way that keeps everyone safe by preventing a fire or sickness from inhaling noxious or dangerous fumes.
It is easy to forget that firefighters strive to prevent problems rather than merely responding to them.  one phone call allows them to do their job and helps to keep you and your property safe.
Let firefighters tell you what is in the barrel. Picture by HafisFox via Pixabay.