Affordable Dumpster Rental
When you are planning your next major project, you begin with a budget in mind. You want to make sure that you can afford the entire project within that budget. Most importantly, you want to leave money to spend on big splash items – the ones that will make your life better every day.
You do not want to waste all of your money on construction cleanup costs.
That is why you will want to spend some time finding an affordable dumpster rental site. One like Big Daddy Dumpsters.
Every size affordable dumpster rental
Sure, you might look twice at the name. You might say to yourself, "I don't need a 'big daddy' dumpster. I just need a regular sized dumpster."
Good news! When you examine our selection of dumpster sizes, all affordably priced for your next project, you will find three different sizes.
You can review the sizes here.
Whether you decide to go with the 10-yard, 15-yard, or 20-yard options, you will find an affordable and easy-to-manage partner for your construction project.
Big Daddy Dumpsters offers delivery and pickup all under the same affordable rate. We even offer a three-day package for the long weekend project you might have planned.
This three-day package allows you to get the most project for the lowest cost, and all without violating the HOA or annoying your neighbors.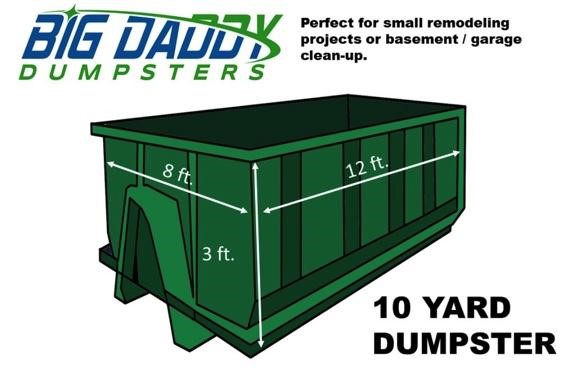 What if I need a big but affordable dumpster
Big Daddy Dumpsters has you covered for even the largest project.
Our 20-yard dumpsters are capable worksite dumpsters, holding an amount that our customers have called a "butt load", a "crap ton", or just a "whole heckuva lot" of debris from your tear-out or tear-down project.
Better yet, you can arrange to have multiple dumpsters at your large worksite. Or, if the site is small but the work is large, you can plan multiple drop-offs and pick-ups.
Whatever your need, Big Daddy Dumpsters has an affordable trash removal solution.
When you think about low-cost, affordable, cost-effective solutions for your next project, think Big Daddy Dumpsters.
Give us a call today to discuss your next project.
Don't have a date in mind, but just want to find out more? Great! Call one of our experienced technicians and we can help you decide what size is right for your project based on a description you give us over the phone.