Commercial Dumpsters for Your Next Construction Project
If you are looking for commercial dumpsters for your next construction project, consider Big Daddy Dumpsters.
Whether you need one company for all of your needs, or your construction site is so large that it will require multiple companies and coordination to manage all your waste needs, Big Daddy Dumpster should be in the mix.
Our huge 20-yard dumpsters and drivers have been hauling waste from construction sites for years. Our friendly staff has been answering the phones and scheduling projects all this time, so we have the veteran experience to be part of a large and successful construction team.
Meet your timelines
When you need to manage a large site, timelines are sacred. A dumpster needs to be in the right place at the right time … and then it needs to be gone on time too.
The Big Daddy Dumpsters team has worked at all kinds of construction sites. Our expert drivers will maneuver the dumpster to the location closest to where you need it. You know that getting a dumpster in exactly the right place will save a lot of time and energy by reducing wasted trips, and shortening the distance needed to haul waste and debris from the work site to the dumpster. Having some new company and their driver drop a dumpster at the curb and leave costs you time and money.
Our expert and friendly scheduling staff will make sure everyone is on the same page for delivery and take away.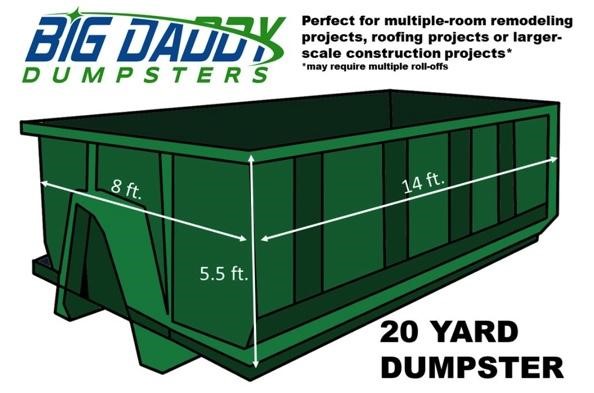 Whether you need one big dumpster or a dozen huge dumpsters, call us. We can work with your crew and even with other dumpster companies to manage a project of any size. Pick ups, drop offs, and periodic check-ins are all part of the package.
You can call us and just set it – and forget it.
Let us manage the entire project's waste removal needs with our huge dumpsters, experienced drivers, and friendly staff.