New Wood Flooring is a Huge Return on Investment – Here's How to Dispose of Your Old Floor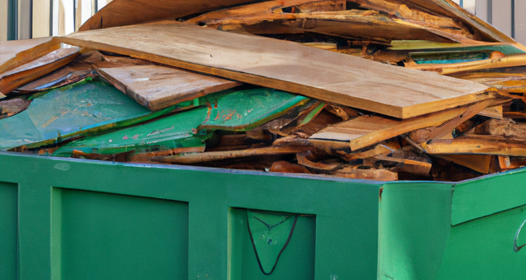 When sprucing up your home or flipping a house, redoing floors is an investment that pays for itself. As an example, new wood flooring offers as much as 118% return on investment.
And replacing a floor is both functional and beautiful.
But when replacing a floor, you can create a great deal of waste. Properly disposing of an old floor is an important part of the process. Here are suggestions for how to dispose of different types of floors as you replace them.
Wood flooring
Wood flooring is beautiful and durable, but requires maintenance. This means that some part of figuring out what to do next means assessing the viability of the existing wood floors. Are they in pretty good shape? Are they rotted through from years of neglect or exposure to water? Here are the possibilities.
Re-using your wood floors – If the floors are in relatively good shape, there is a better option that replacing them. Reconditioning and restoring old wooden floors not only adds to the charm and beauty of an older house, but it also saves the work that comes with removing an old floor and putting in a new one.
Re-cycling your old wood floor – if re-using doesn't fit your needs or skill set, there might still be a little life left in the old wooden floor. Many communities have re-purposing sites that take your old items, sometimes even paying you for them. Then they resell it to an interested buyer.
Throwing it away – of course, the last option is the one that is always available. You can throw away your old wooden floor. In this case, you might need to rent a dumpster.
Vinyl or laminate flooring
In many cases, vinyl or laminate flooring is nearly impossible to reuse or recover. Trouble matching with new pieces, and permanent staining mean you have to start with the strongest response: throwing it away. If recovery isn't possible, rent a dumpster to dispose of the old floor after checking with your local waste disposal company to make sure they take that particular style of waste.
And always check for asbestos. In many cases, older floors will have trapped asbestos beneath them, and the cost of removal with asbestos treatment is astronomical. Check before you make a costly mistake!
Photo created by author on Dall*E