Build a Patio This Summer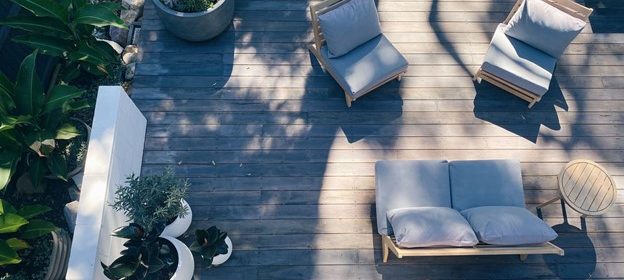 Summer is coming. And when it arrives, you will be looking for reasons to spend time outdoors. And you will need more space to support your many outdoor activities: cooking, hosting guests and friends, or just reading. The perfect place for all of this activity is your new patio.
Depending on a variety of factors, a wood or a poured concrete patio might be the right choice for you.
Should I choose a concrete patio?
If you need a ground level patio on level ground outside your home, a concrete patio might be the right solution.
Durable, easy to clean, and available in a variety of custom finishes, for many homeowners this is the ideal choice. Custom pours and finishes can make modern concrete look like brick or stone, and even match existing walks and the drive. Custom dyes make concrete a fashionable option.
One downside is that concrete pours tend to be expensive. Additionally, these take more space to build, as access for the truck to pour concrete, or several workers to carry it by the wheelbarrow, makes it a choice for large and flatter spaces.
Should I choose a wood deck?
Pressure treated lumber has long been a favorite building material for porches and decks. Its affordability and flexibility allow for a variety of uses including ground level, upper level, or even multi-level patio / porch visions.
Contractors and avid do-it-yourselfers find wood to be the ideal solution. Since most homeowners already have the necessary tools for woodworking, and lumber is available at a big box store within driving distance of most locations, many homes today have wooden decks.
Some downsides of lumber is that it typically is limited to a variety of wood colors. Additionally, finished wood decks ten to look less formal and are not ideal for every decor or home style.
How do I start?
Make sure you have the space and structure for the patio or deck you desire. In some cases this means taking out an existing deck or patio. Destruction on this level often means renting a dumpster to take away yard debris or the torn down remnants of the original structure that was in that location.
You can work with the friendly staff at Big Daddy Dumpster to arrange a dumpster of the perfect size to match your project and arrange drop-off and pick-up times that match your project calendar.
Photo by Cameron Smith on Unsplash