Dumpster Rental in Springboro
Everywhere that big work is happening, dumpster rentals are needed.
That includes the city of Springboro.
Fortunately Springboro residents have lots of choices for where to go to rent the dumpster they need to take on the work that needs to get done.
Even more fortunately, they have close, local access to Big Daddy Dumpsters.
This southwest Ohio company has been renting dumpsters of multiple sizes to construction companies, homeowners, and industries for two decades, and is ready to meet the need of the residents of Springboro, Ohio.
What dumpster does your project need?
There are just a few questions you need to answer before renting your dumpster. You can answer them yourself, or call one of our helpful and experienced assistants to walk you through the questions.
You want to make sure you get the right dumpster for your needs.
Do you have more trash and debris than you can put at the curbside?
Do you want all of the trash and the project to be done on or by a certain date?
Do you want to avoid the expense and effort of driving it all to a dump site yourself?
If your answer to one or more of these questions is "yes," and you live in the Springoro / Greater Dayton / Greater Cincinnati area, then Big Daddy Dumpsters has a solution for you.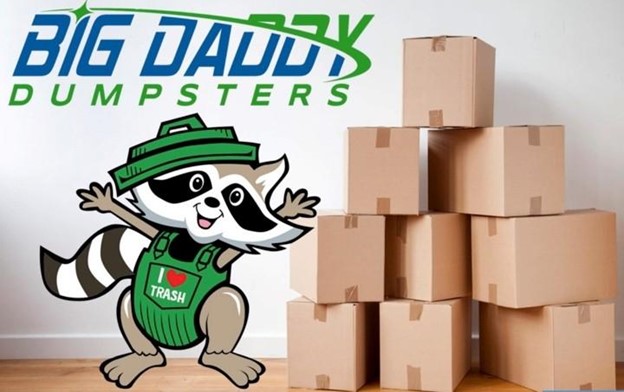 Springboro trash panda loves Big Daddy Dumpsters.
What size dumpster do I need?
The most important consideration for your project has to do with the amount of debris you need safely hauled away.
Here's a quick guide we offer to get you started thinking about your project:
​​20-Cubic-Yard Container – Roofing projects, medium sized remodels, spring cleaning.
15-Cubic-Yard Container – Moving and downsizing, spring cleaning, and small remodels.
10-Cubic-Yard Container – Concrete, asphalt, brick, tile, dirt, sand and small remodel projects.
Of course, all of these measurements are dependent on many variables. Some roofs are bigger than others, for instance, just as some "small" remodel projects are smaller than others.
Prepare for your call by having measurements ready based on the drawings or county auditor's report about your space. One company's small project is another homeowner's major remodel!
Springboro, let our professional drivers deliver the right-sized dumpster to your location, then let them take it away at the time and date we agreed upon.
A clean work site means happy neighbors!