I Need a Big Dumpster
Do you ever say to yourself, "I need a big dumpster?"
Maybe you're looking at a large mess you have to clean up, or you are planning a construction or development project that is going to make more trash than your curbside service can handle.
If you need a big dumpster, you should turn to the bid daddy of dumpsters: Big Daddy Dumpsters.
Our smallest dumpsters are big dumpsters
At Big Daddy Dumpster, we start at "big dumpster" and go up from there.
Our smallest dumpster is a "10-yard" dumpster. And it's a big dumpster. Really big.
Measuring 8 feet wide and 12 feet long and 3 feet deep, the 10-yard dumpster holds 10 cubic yards of debris or other approved waste.
That's enough for a household project like a basement cleanout or renovation, or drywall work in the attic.
Many home owners who take on projects around the house find this the perfect size for their project. And with new, convenient 3-day rentals, this is perfect for the 3-day weekend patio teardown and rebuild in your future.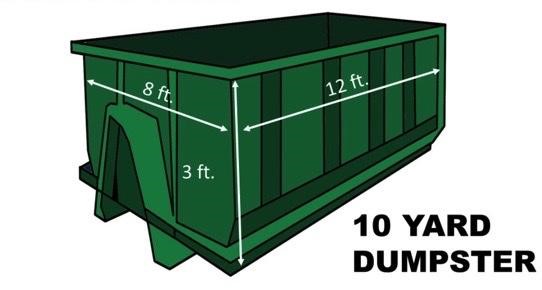 Our medium dumpsters are big dumpsters
Also, our medium dumpsters are pretty big dumpsters too.
Measuring 8 feet wide and 14 feet long and 4 feet deep, the 15-yard dumpster holds 15 cubic yards of whatever you need hauled away from your worksite.
Perfect for medium-sized projects that involve contractors or multiple workers, the medium dumpster can be placed in a convenient location and left for longer periods of time, depending on the scope of the work to be done.
Are you redoing your roof? Do you have a multi-room project on tap? This is the perfect solution for your big dumpster needs.
Our big dumpsters are big daddy dumpsters
Our big dumpsters are not for the casual work-around-the-house sort of handyman or woman.
Instead, the biggest dumpsters are when you have a major project in front of you. Are you flipping a broken down house and need to gut the whole thing? Are you in charge of a construction site that is throwing off construction waste every work day for weeks at a time?
You need a serious, big daddy dumpster.
Measuring 8 feet wide and 14 feet long and 5.5 feet deep, the 20-yard dumpster swallows an amazing 20 cubic yards of refuse.
Set up a schedule to have it regularly replaced as you build a skyscraper or a stadium.
We can handle any job, no matter how big.